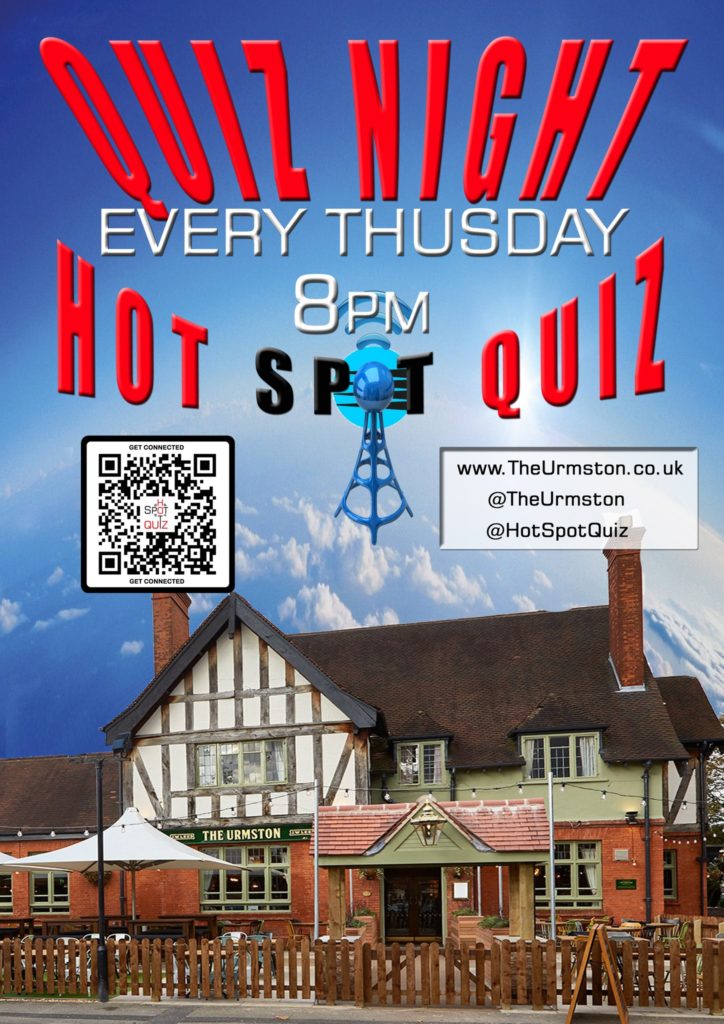 The Urmston Pub – www.HotSpotQuiz.com
Join us each Thursday from 8pm at The Urmston Pub / Hotel (Stretford Road, Urmston, Manchester M41 9WE). Join in with all the other regular quiz teams for fast finger flicking fun on the Hot Spot Quiz.
It's free to play, all you need is your phone or tablet along with a few friends. Battle it out against the rest answering a wide variety of different questions.
We ask three 20 question rounds and also include a music round. The questions themselves cover all types of topics and subject matter. From modern day TV based trivia right through to classic quiz questions for the past.
There are regular breaks in-between rounds for quiz teams to have toilet and smoke breaks. They are long enough for you to order fresh refreshments and maybe even food.
You can join the dedicated Quiz Night Facebook group right now and suggest questions or topics. You can and request a customised or special quiz buzzer to be made up just for you and your team. By being a member of the quiz night group, your are entitled to some handy privileges. You can book and reserve one of our pre-configured devices, an Amazon Kindle Fire tablet.
Thursday Night at The Urmston Pub / Hotel Quiz Group – CLICK HERE
The Urmston, like most J.W. Lees establishments has a large and busy restaurant. There menu ranges from simple bar snacks right up to a fabulous selection hot meals. You can either grab a bite to eat or enjoy a full meal with your quiz team before the action starts at 8pm.
Food is served until 9pm in the evening, so you can order nibbles to enjoy while waiting to play the Hot Spot Quiz.
Call and reserve a table for your quiz team as early as possible to ensure yourself the best spot – 0161 864 3217.
The Urmston Pub / Hotel's address and how to find it…
Stretford Rd
Urmston
Manchester
M41 9WE
Website – www.theurmston.co.uk
Facebook – www.facebook.com/TheUrmston
Twitter – www.Twitter.com/TheUrmston