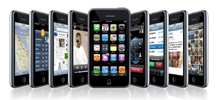 How & Why It Works So Well…
Hot Spot Quiz is a pub quiz, played at speed over a dedicated Wi-Fi network entirely on your Smartphone, be it Android or iPhone, iPad or Android Jellybean powered tablet.
There are no pens or paper involved at all and all the marking up is done automatically, so there's no queries about scoring issues. It utilises a dedicated Wi-Fi network that isn't connected to the internet, so there's also no fear of teams Googling answers.
There's also a ten second countdown after each question making the whole quiz impossible to cheat on. Thus removing the scourge of most pub quizzes, the teams that Google and Shazzam their answers. As you will be aware if you are a regular pub quiz goer, this blatant cheating of teams using their mobile phones has been the big downfall of the modern pub quiz, putting a lot of you off doing one. This brand new concept of playing the quiz turns that whole problem on it's head, as you have to use your mobile phone to play it. Not connected to Google or any other search engine, but by being locked into a network that isn't connected to the internet, forces teams to use their own knowledge and answer each question the genuine way.
How It's Played…
One each team has downloaded the Speedquizzing APP they simply log onto the Hot Spot Quiz  – Wi-Fi Network in their phone settings. Launch the APP, tap in their desired team name and click on the Connect button. They will they get their handset locked into the Hot Spot Quiz System where they can then choose their very own special dedicated team buzzer. Just like in popular TV game show and quizzes like Qi hosted by Stephen Fry, each team get to choose or has assigned for them, either a comedy clip, TV theme tune, chart pop song or a simple sound effect. There are hundreds to choose from, something for everyones tastes (see our buzzer page).