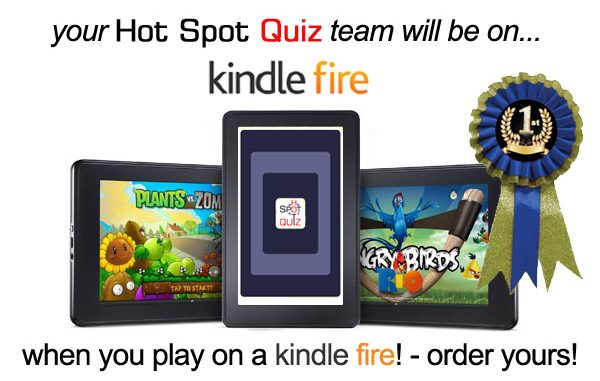 Hot

Spot

Quiz recommend the
7″ Kindle Fire Tablet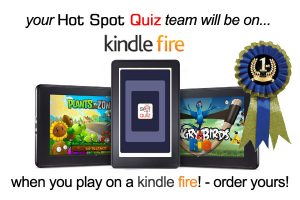 As a leading interactive tablet quiz platform provider in the North West of England, we here at the Hot Spot Quiz highly recommend the 7″ Kindle Fire Tablet to do the job you want it to do.
The Kindle Fire Tablet is a winner in our books. It's light, simple to use and is a sheer joy to both work and play with. They boot up well within a minute, they come with a great operating system that is very simple to navigate around. They have a beautiful 7″ IPS display (171 ppi / 1024 x 600) screen that is perfectly sensitive to the touch. As a main stream hand held tablet, you will find them incredibly fast and very responsive. They come equipped with 1.3 GHz quad-core processor and  both rear- and front-facing cameras, which is a must these days.
They are the ideal machine for the purposes we use them for, playing the new ground breaking type quiz, the Hot Spot Quiz. The only fun, fully interactive phone or tablet based quiz pub quiz around. Kindles work better than a phone, offering a larger, clearer, brighter screen, perfect for the Hot Spot Quiz. Retailing at a fraction of the cost of it's nearest equivalent competitor, these are a super piece of kit, not just for the Hot Spot Quiz but for reading the latest downloadable book, browsing the internet or playing any one of 1,000's of APP based games available from Amazon Underground, their new app store.
"Your

Hot Spot Quiz

team will be on

Fire

using a

Kindle Fire Tablet

!"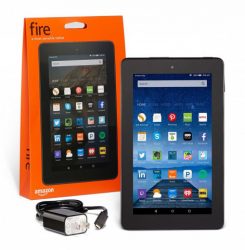 You can order yours online right now through leading online marketeer Amazon, click through for details – 7″ Kindle Fire
If you too are a smartphone quiz provider and looking at getting some to hand out at your quiz night, you may be interested to know that if you order 5 Kindle Fire Tablets, they will give you a 6th one totally FREE OF CHARGE!
Here at Hot Spot Quiz we have been using them now for over 7 months without a single problem of any kind and we are looking at adding more to our service as our quiz nights grow and grow.